 About
Pilates of Collierville and STOTT Pilates™
STOTT Pilates™ offers you a welcome alternative to a traditional fitness routine. You can benefit from the Pilates exercises whether you are new to exercise programs or an experienced athlete. We have been providing professional instruction to Collierville and greater Memphis residents since 2002. For beginners, we recommend an orientation session and, as with any new exercise program, please consult with, and obtain approval from a physician before starting your Pilates classes.
Thank you for reviewing the information presented in this site. Please call or e-mail us if you have any questions about how to get started.
Benefits of STOTT Pilates™ .
It will improve your posture and can help you regain lost height.
It will improve muscle strength thus improving muscle tone.
With stronger muscles the skeleton will have better support and take less everyday stress.
Improved flexibility and mobility in the joints will give the body freer movement.
The breathing helps the body's circulation, it helps the efficiency of the lungs, and it helps to keep fresh blood/oxygen supplied to the muscles.
It helps reduce stress (mental and physical).
It helps to keep the mind active and can improve concentration.
It improves balance and coordination.
It helps improve performance in sports (golf, skating, gymnastics, tennis, running, swimming, dancing, baseball, soccer, cheerleading, etc).
Heightens body awareness.
Balances strength and flexibility.
Helps to create proper body mechanics.
Can help to alleviate joint pain.
Increases core strength and stability.
Can help improve digestion.
Helps prevent injury.
No-impact – easy on the joints.
What is STOTT Pilates™?
STOTT Pilates™ is a highly effective way to get your body in top condition whether you're recovering from an injury or already in good shape. STOTT Pilates™ is a contemporary, anatomically-based approach to Joseph Pilates' original exercise method developed in the 1920s. Once the secret of dancers and athletes, it's now recommended by physical therapists and personal trainers everywhere. The various classes are modified to suit your needs and abilities to safely develop optimal strength, flexibility and endurance without adding bulk.
What you can count on at Pilates of Collierville.
Select the best option for you.
Private, one-on-one sessions
Instructor lead classes

Semi-private classes

Thinking of trying STOTT Pilates™ for the First Time?
Sign Up Now for the Orientation Special.
This includes one orientation session, one private session, and one group session: All for only $30. A great way to get started with Pilates.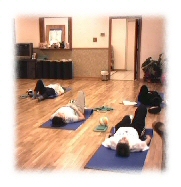 Whether you are looking for a new, less stressful way to strengthen your muscles or if you are interested in rehabilitating an injury, you can receive professional, certified instruction at Pilates of Collierville.
About Marsha Bloss, president of Pilates of Collierville.
Marsha, a certified STOTT Pilates™ instructor, has been teaching Pilates since 1999. Her interest in the exercise grew from her background in professional ballroom dancing and the belief in the profound positive effects that a dedication to the Pilates exercises can have on one's body and life.

After researching the various styles of Pilates, Marsha chose to train in the STOTT style due to its input from physical therapists, physiotherapists, sports medicine doctors, and other professionals in the medical community. She received training through a STOTT training center in Dallas and participates in continuous training in order to provide clients the most current and high quality information and instruction.